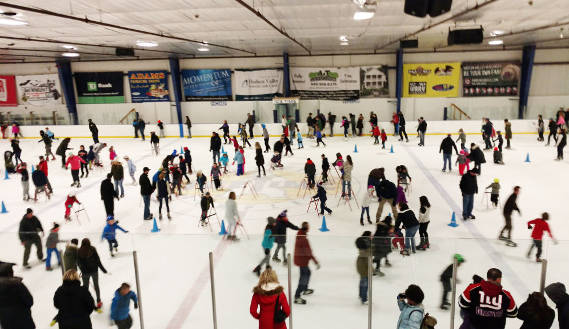 Ice Time Sports Complex is the Hudson Valley's premier ice skating and sports facility located in Newburgh, NY. The facility features two full sports rinks that serve youth and adults. Ice rink activities include: ice hockey, public skating, private lessons, birthday parties, and figure skating camps for all ages. Ice Time is also home to the Mid-Hudson Polar Bears and the Lady Polar Bear Teams.
In addition, you'll find Mid-Hudson Adult Hockey League, Roller Derby, and Newburgh Night Pandas here.
In the winter, Ice Time Sports Complex is the go-to place for winter family fun and has been recognized by Hudson Valley Parent Magazine as a Top Hudson Valley Ice Skating Rink. Each summer, Ice Time Sports Complex transforms one of their ice rinks onto a full sports court for multi-purpose use and rentals.
For more information on any of our programs including Travel Hockey Teams, please contact MikeL@MidHudsonCivicCenter.org or call 845-567-0005