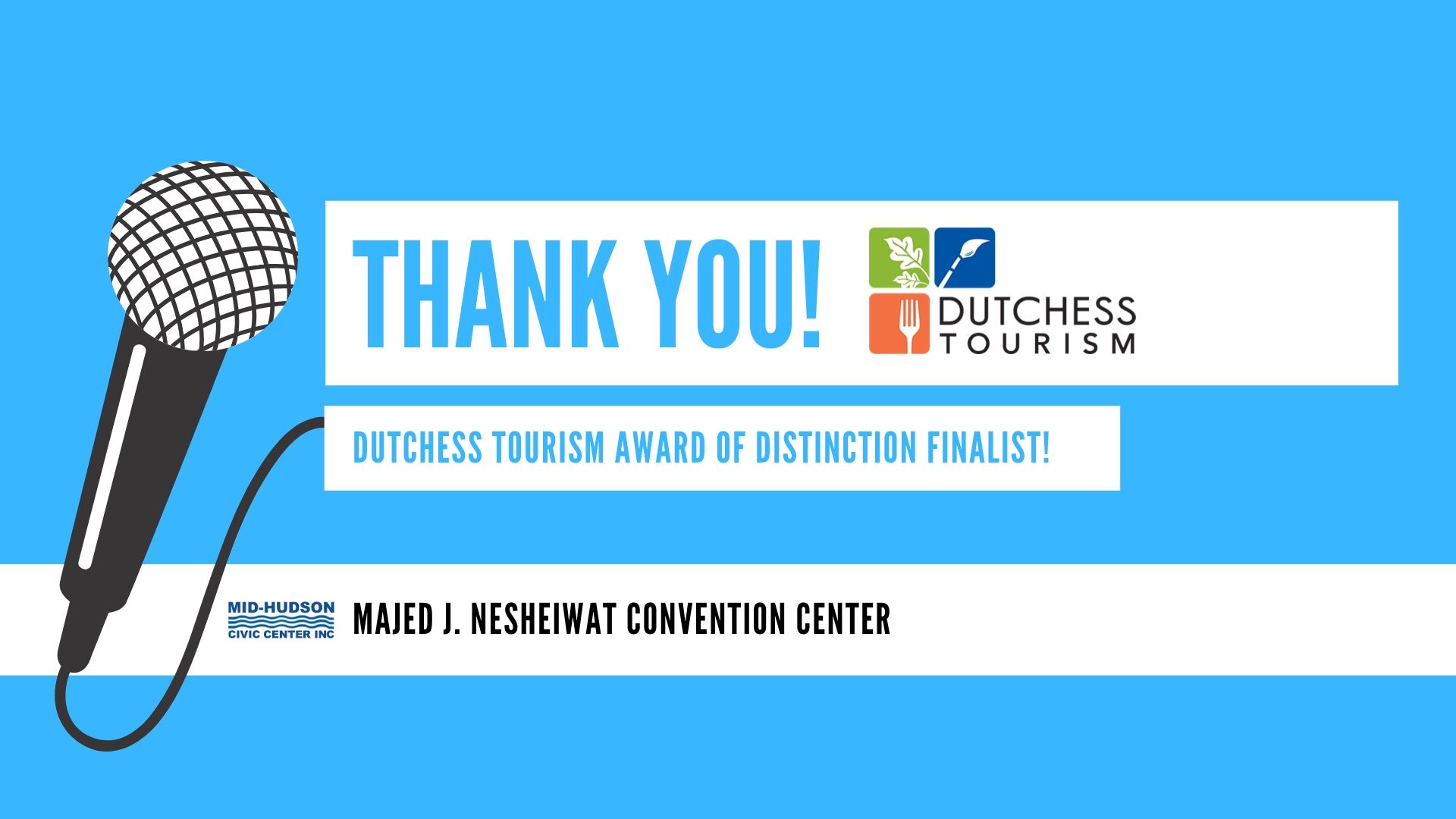 We are honored to announce that we are one of the 2020 Award of Distinction Finalist for Dutchess Tourism! Thank you!
Since 1976, the City of Poughkeepsie and Dutchess County has seen the cultural, social, and economic growth benefits of the Majed J. Nesheiwat Convention Center who has brought big names such as Bruce Springsteen, Meatloaf, Bob Marley, Willie Nelson, WWE, Boxing and most recently comedy superstar, Sebastian Maniscalco to the area. Shows at the Majed J. Nesheiwat Convention Center continue to be a significant driver of economic activity throughout Dutchess County which derive mainly from direct spending on such things as food, beverage, hotel accommodations, fuel, transportation, and sales tax revenue from locals and tourists. Over the last four years, we have brought in more people from outside of Dutchess County than what we have done over two decades. Our exciting new shows and events draw people from over 18 states and 5 countries and span in ages from 2 to 99 years old. As many ticket-holders utilized public transportation, city parking lots, restaurants, and lodging accommodations, Dutchess County continues to be positively impacted by the work of Mid-Hudson Civic Center, Inc.
Dutchess Tourism Announces New Award of Distinction Finalists for 2020
Indirect benefits to the city of Poughkeepsie come in the form of promotional efforts, exposure to Dutchess County's tourist spots as well as local purchases for show supplies, and increases in employment. Media, marketing, and promotional efforts reach more than 250,000 people on Facebook alone. The out of area traffic that the shows bring into the city increases exposure to many of our area's historic sites, tourist attractions, and rail trails. Typically 25% of ticket holders come from the local area while 75% travel from outside the Hudson Valley region to attend the shows. Additionally, Mid-Hudson Civic Center, Inc. increases local employment by more than 300% for each of it's shows and events. In response to the Sebastian Maniscalco's sold-out shows this weekend, Danielle Anderson, President says "As a not for profit organization we rely on the support of the community! And WOW did the community come out this weekend!" 
In order to continue to bring revenue driving events to Poughkeepsie, the Majed J. Nesheiwat Convention Center relies on the partnership of local businesses, government, and organizations. The center is a not-for-profit community organization dedicated to supporting the growth of the city through cultural, recreational, and educational opportunities.
Despite being closed now for two full months and unable to serve our renters and community, we worked tirelessly to retain our full-time staff and create bigger plans for our future.
We are working everyday to book future events, reschedule shows, and plan for the next seasons of hockey and figure skating. The rest of 2020 will look a little different for our industry as we regain our footing after this pandemic however we strive to continue our exponential growth into the next couple years.
Click here to read more about our Dutchess Tourism Finalist Spotlight!